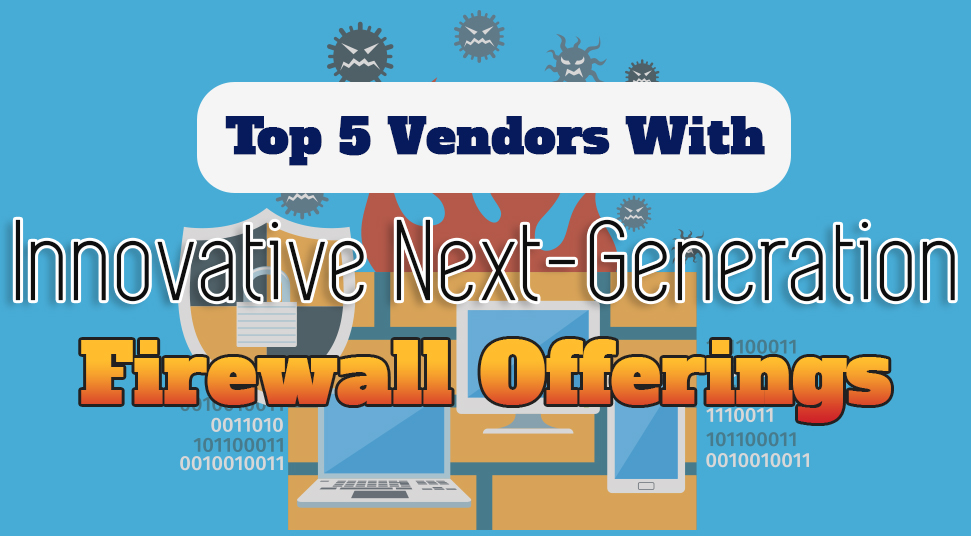 As we live in an era of internet and high-end technologies, cybercrime and data security have become very unstable and delicate.
Several high-end cyberattacks around the world have raised consciousness among us. The Firewall protecting companies have already started to review firewalls and increase its security.
NGFWs abbreviated as Next-Generation Firewall Securities is a part of third generation firewall technology which is united by a traditional firewall with other network device filtering functionalities.
Thus, let's dive into 5 topnotch and innovative Next-Generation Firewall vendors and see how it can improve the IT security strategy.
Hallmarks of Next-Generation Firewalls for Data Security
To reach next-generation security, you should do more research and keep updated to the latest information on Firewall security.
Using next-generation firewall protection makes cloud computing and integrating mobile users easy. It also helps in reducing accessibility and maintains transparency.
Here are some outstanding features of Next-Generation Firewalls that will definitely grab your attention:
Application Awareness
Reporting Efficiency
Exclusive management tools
Sandboxing
Policy Enforcement for apps
Integrated threat intelligence feeds
Vendors and suppliers all over the world have come up with high-end firewall protection technologies concerning Data Security for giant IT Companies.
Globally the next-generation firewall market which includes firewall security-related hardware, software, and services is estimated to grow to USD $ 8 billion by 2022 at the rate of 9% a year.
Top 5 Innovative Next-Generation Firewall Merchant
Network Firewall security is the core of the IT Security strategy. The capabilities of Next-Gen Firewall protection has reached its height in the Network Firewall market and vendors are still working on feature hardship and depth.
So, let's take a look at the top 5 innovative next-generation firewall vendors who are well recognized in this sector.
1. CISCO
Headquarters: San Jose, California
Established in: 1984
Cisco is one of the best Company when it comes to Next-generation Firewall Protection Security. It is a security device combined with firewall, antivirus, intrusion prevention, Virtual Private Network (VPN) and endpoint security.
Cybersecurity Products: Web Gateway, Network Admission Control, Advanced Malware Protection, Endpoint Security, Next-Generation Firewalls, Security Management and Security Services, Network Admission Control.
Service: When it comes to networking, Cisco is one of the leading vendors in the world. It has developed extraordinary cybersecurity products working with less security service providers, thus enhancing the cybersecurity evolution.
There are a variety of products that are being introduced starting from NGIPS Firepower, Firepower Series firewalls, Cisco Umbrella, Cisco Advanced Malware Protection to Cisco Cloudlock and many more. When it comes to networking and security, it is one of the leading vendors in the world.
2. MICROSOFT
Headquarters: Redmond, Washington
Established in: 1975
Microsoft is one of the best companies for developing a cybersecurity strategy. It has been providing quality service for years to Multi-National IT Companies. Azure Security urge you to go for Microsoft Next-Generation Firewall Service to increase your security and prevention from hacks.
Cybersecurity Products: Information Protection Agency, Identity, and Access Mangement, User and Entity Behaviour Analytics, Threat Protection, DDoS protection, and Application Gateway.
Service: When it comes to Microsoft NGFWs security, the device might not be of high-end quality. However, in sales, it is pretty competitive.
Microsoft provides multiple security services through its Azure Cloud Computing platforms like Security Centre for security management, Azure DDoS Protection, Azure Information Protection and Application gateway for Web applications.
3. SYMANTEC
Headquarters: Mountain View, California
Established in: 1982
Bluecoat was developed to provide hardware, software, and services built for Cybersecurity and Network management which later was taken by Symantec in 2016.
Cybersecurity Products: Advanced Threat Protection, Endpoint Security, Web Gateway, Cloud Security, Identity Theft Protection, Website Security, Encryption and Email Security.
Services: Symantec offers a vast range of products for small business and enterprise security protection. It has other consumer products under the brand name of Norton Security.
One of its best-used product is the combined Cyber Defense platform which is adopted by more than 3 million business or people. Symantec says that they are global leaders in next-generation cybersecurity.
4. PALO ALTO NETWORKS
Headquarters: Santa Clara, California
Established in: 2005
Palo Alto Networks is an American Multinational cybersecurity agency with the most simplified version of Security Protection.
CyberSecurity Products: Cloud Security, Threat Detection and Prevention, Application Framework, UEBA and Endpoint protection.
Service: It's one of the chief product is Security Operating Platform, which can be incorporated with other products and customer applications. Following that, it helps to protect companies Networks and Cloud deployment.
Palo Alto works with the renowned organization throughout the world and it has made sure to provide absolute perfection in implementing security solutions to all.
5. CHECKPOINT
Headquarters: San Carlos, Israel, California
Established in: 1993
The Checkpoint is a part of Software Blade Architecture that helps in providing Next-Generation Firewall protection service and Data Security including Virtual Private Network, Threat Prevention, and proactive protection.
Even NSS Labs recognize Checkpoint for its efficient Security planning and protection service.
CyberSecurity Products: Next-Generation Firewall, Security Gateway appliances, Endpoint protection, UTM, Advanced threat protection, Cloud Security and Mobile Security.
Service: Checkpoint serves high-end security products for both consumers and enterprises. The checkpoint is best known for its Network Security and Firewall products. In fact, they claimed to be the largest Network CyberSecurity Vendor on a Global scale.
Moreover, it has also built Anti Malware and threat prevention programs for its customers. This is why thousands of companies trust Checkpoint and its products.
Wrapping Up
Having discussed all the top 5 innovative next-generation firewall merchant and measures to improve cybersecurity, it is completely up to who you prefer because it's related to topmost safety and prevention measures.
Potential threats to broad networks and personal devices are quite frequent nowadays. However, your job is to keep and maintain data security by using Next-Generation Firewall Security and other features which it offers. So, it is recommended to choose your brand wisely.