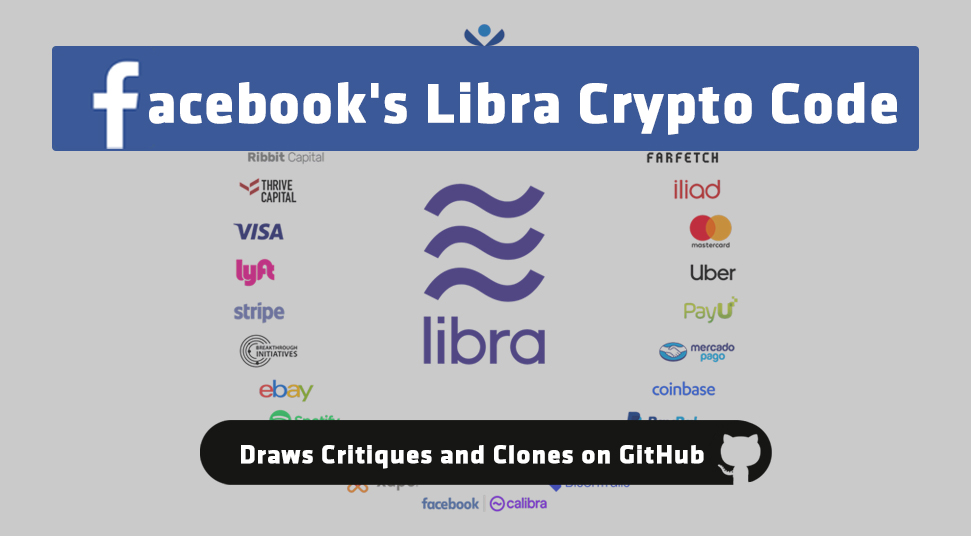 The primary access code for Facebook's Libra cryptocurrency hit the GitHub a few weeks ago. In the meantime, the trollers and detractors are targeting this project. 
The project, which was started by the social media giant and presently managed by Libra Association, has been starred by around 10,000 users on GitHub. Its occurrence signifies a great enthusiasm among open-source participants.
Within this short time span, over 1000 clones of the codebase have been developed. Thus, many would-be developers are taking interests to experiment with the Facebook Libra Crypto Code.
Facebook Libra Crypto Code: A Concise Analysis
Libra is a new digital currency which uses cryptography. In one word we can say that it is a cryptocurrency which keeps the information protected and transactions verified. This cryptocurrency is all set to start its journey from next year.   
People who are using Whatsapp service, Messenger service or a standalone application of it, can access it by a digital wallet. Moreover, this Libra crypto code is powered by Blockchain- a type of digital ledger, which runs by powerful mathematical computations. 
As per facebook, In future this currency will be effective in providing basic financial services to those people who do not have bank accounts or who can't transfer money abroad. 
What's Up on GitHub?
As a matter of fact, in GitHub, future coders are playing with the code of Libra to include features which are found in recent frameworks like bitcoin. 
Some of these efforts were either fake or fraudulent. For example- Mikko Ohtamaa, who have created  "Libra Classic", the democratic version of Libra blockchain, remarked the effort as a prank. 
Whereas in this point,  Albert Castellana, chief product officer at cryptocurrency startup Radix DLT proclaimed in an interview that there were no real code flaws and most of them were either invalid issues or typos.
Current Incidents Regarding Pull Request: 
On GitHub, a user who has read authorization to a code repository can create issues and pull requests. Here, creating issue means, tag problems in code or areas to enhance it.
On the other hand, pull request centers to suggest changes in a code repository. However, Reviewers who have permissions to "write" or "admin" can approve or reject this request.
In the last few days, more than 100 issues have been identified with the Libra codebase. Nevertheless, Github has closed almost all of them and marked them as Off-topic. 
In this situation, some of these reinforce the sentiment shared by those who believe that the blockchain protocols include flaws in the cryptocurrency community.
As an example- a GitHub user Gazhayes initiated a pull request, where he wrote that he have found an " alarming vulnerability". Although, according to him this problem can be improved by adopting a permissionless system.
Unfortunately, GitHub closed this request and the whole conversation got marked as an off-topic discussion by the official Libra GitHub administrator. As a result, there were many complaints from people who considered gazhayes' post as the authentic ones. 
Decentralized application developer Marcus Newton, was one of them, he wrote, "By locking [pull request] #83, it indicated that the maintainers are not open to differing viewpoints and experiences." 
In response, according to the tech lead for Calibra- the libra blockchain,  Ben Maurer, they are aware of the fact. He further added that it is a metamorphic effort and now they need to organize an association around it. Apart from that, he also wrote some lines about his view regarding this matter. 
Arguments that Endure in Conclusion
Agreeing with this emotion, Ohtamaa said, "People just hate Facebook so much that they're trolling the GitHub [repository],". Besides that, he added, "All the comments [right now], it's not a discussion, just angry arguments."
But with time, Ohtamaa retaliated the additional code specifications. Thus, after further inspection, he concluded that the Libra network will function great and the haters will have no further topic to argue. 
In Ohtamas words "From then, the development will happen in an open-source platform and the whole thing is none but a code dump because Facebook has a good reputation in case of open-source projects."
Though Facebook and its partners are rushing to gain Bitcoin's success, there are still several questions that remain unanswered. For example, Jameson Lopp, CTO of crypto security startup Casa, admitted to an online publishing house that, there's still a lot of missing information concerning this specific code. 
On the other hand, the communications manager of Facebook Alexandru Voica stated that the thing which they have shared will add a new command-line interface for the programmable language. Hence, It allows a developer to work on various codes in an easy way.