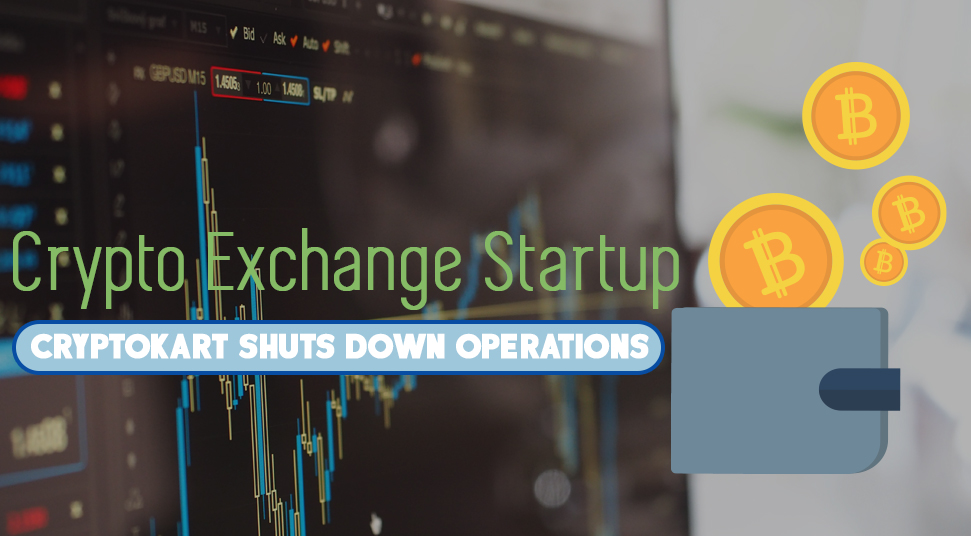 A Cryptocurrency Exchange (CE) offers its services exclusively on an online platform. It offers proceedings in an electronic mode by taking fees for them. It is similar to other businesses which use conventional payment procedures.
However, India's sturdy stand on cryptocurrency has managed to shut down a Crypto Exchange Startup, -Cryptokart. So, in this article, we are going to discuss Cryptokart and the circumstances that led to its closure. 
Words of the Founder
Recently, the news headlines announced the permanent closure of Cryptokart. This was as per Gaurang Poddar's post in his LinkedIn account last week.
Poddar, who is also the founder of Cryptokart, described the details of the shutdown of the exchange as "difficult, given the hard work we've put in".
He further added that he was looking for various openings in product management, and asked other interested people to interact with him. Ventures like Koinex also ceased their operations after Indian Crypto Exchange. 
Another Indian Crypto Exchange which declared the cessation of its services was Coinome. Both the exchanges brought up the hostile regulatory platforms as the reason for their closure.
Other Exchanges that Discontinued their Crypto Activities 
On the basis of last month's report of Cointelegraph, enforcement of 10 years imprisonment is imposed by Indian lawmakers as a penalty for the citizens who deal with cryptocurrencies.
As a result of a recently passed draft bill named "Banning Cryptocurrencies and Regulation of Official DigitalCurrency Bill 2019", the new crypto regulation is formed.
Apart from that, other exchanges have already shut down their operations in the past which includes Zebpay, and Coindelta. 
The momentum in this field got commenced in the month of April 2018 after RBI directed banks to abstain from serving any type of cryptocurrency exchanges and companies.
WazirX and CoinDCX are the two top-leading cryptocurrency exchanges which are presently speculating on the global markets.
Cryptocurrency and Blockchain Goes Hand-in-Hand
The field which enables cryptocurrencies into the function is Blockchain. The Blockchain is generally a technology that offers a dispersed record which forms the network which constitutes assigning of value and data.
Cryptocurrencies are the signs used within these interfaces to convey value and pay for these deals. 
Furthermore, you can observe them as a medium on a blockchain which in some cases works as a support or utility function. Following that, they are helpful in providing a numerical value to an asset.
Blockchain also assists as the source technology where cryptocurrencies are a member of the ecosystem. Blockchain and cryptocurrencies work together, as Crypto is often needed to settle on a Blockchain.
But without the availability of Blockchain, there would have not been a platform for these settlements to be registered and transferred.
Additional Facts About Cryptocurrency
Some reports state that some of the purchase and investment from the ICO's in India blockchain and cryptocurrency startups went extremely low as a result of the lack of regularity accuracy.
The present Union Minister, Anurag Thakur earlier this month reasserted that cryptocurrencies are not accepted as a legal tender. Also, the problems in before-mentioned currencies are still being experimented.
An Inter-Ministerial Committee (IMC) is organized by the government to examine the subject. Additionally, this committee will examine the positives and negatives of proposing official digital money in the country.
In fact, Facebook, which has bigger ideas of operating its cryptocurrency 'Libra' worldwide, is not starting it in India. 
According to the Facebook spokesperson, "There are no plans to offer Calibra in India. There are local restrictions within India that made a launch not possible at this time" 
If you wish to purchase a bitcoin or digital money, you need to pick a cryptocurrency wallet where you can securely deposit your coins or souvenirs.
Ending Note:
Thus, in the end, we have seen how Cryptocurrency has effected the closure of businesses. The general idea of Crypto is abolished in India. 
And unfortunately, the government is not working to include any laws and leave it shaded for a while.
The cessation highlighted the struggle for Indian startups in the cryptocurrency sector and probabilities of allowing businesses in digital money look shadowy.