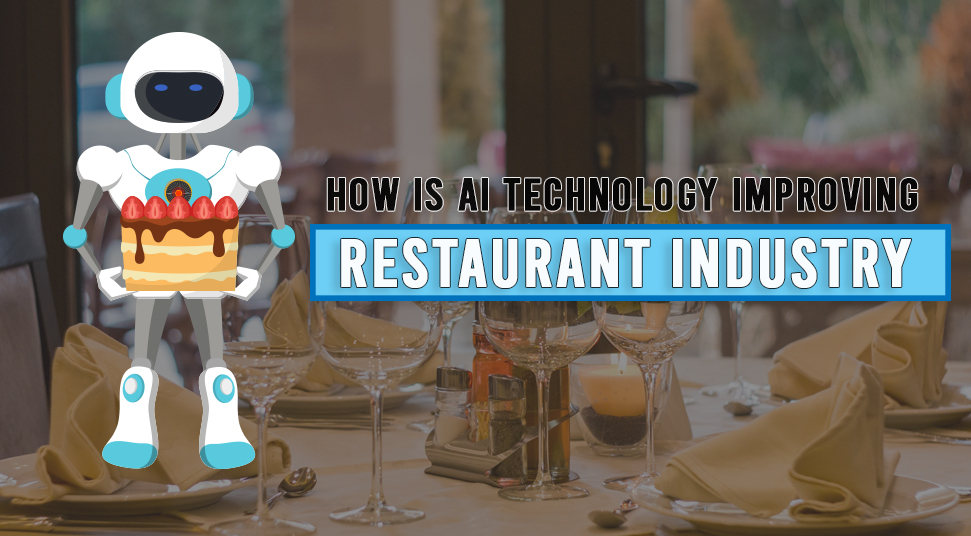 Can you imagine robots serving you food and drinks in the restaurant? How would it feel to be served by robots instead of human waiters? This digital restaurant will be a lifetime experience for visitors from different parts of the world.
This is possible in real when you find the application of AI technology in your favorite restaurants. Imagine AI in Restaurants serving food and drinks.
The restaurant industry is massive, complicated and evolving at a great speed. A large number is employed in this industry resulting in great sales and turnover.
However, success in this industry is very tough as consumers taste changes quickly. Customers try finding out different foods in different ways.
To flourish in this atmosphere, businesses need to study how customers make choices,  changes in the competitive area and stay on top of upcoming directions.
Application of AI in Restaurants:
A restaurant owner, considering the above all reasons, will benefit more if they employ artificial intelligence (AI) very soon. AI presents a truly changing hope for restaurants because it can offer various recommendations and not just a vision.
Moreover, it can recognize trends far better than human beings. And despite its popularity for ramification, AI is user-friendly.
These days you can see the application of AI in various fields such as in sci-fi movies, machines, vehicles. Now you will get to see in restaurants.
Isn't that sound interesting and amazing? Application of robots into the workforce may drive fear in many.
Technology and automation can deliver some jobs which are not relevant. But a compiled expert information and data on the subject will suggest that technology can overthrow anywhere. You must have noted that some restaurants with AI robots as employees were well accepted recently.
However, the number of restaurants is about to increase from 50 to more by the end of 2019.
Dominos also has stated some flourishments with their self-driving robots delivering pizza. In Europe, the company has plans to broaden the program more.
Instructing kiosks is one of the practical types of AI which you'll find in restaurants. These machines let the customers book their orders on-site. These kiosk robots act as a selling system as it sends the order directly to the restaurant's kitchen. 
Vital Role of Machine Learning in AI
Machine learning is an important portion of AI. This subpart of AI includes a program or a machine "learning" particular which features studying of data and inputs with passing time.
When you shop or stream services, it offers you many suggestions. These suggestions reach you through programs based on algorithms. They study your activity to learn and personalize the experience on the basis of your behavior. It is progressive and operates independently.
As you use the website more, that algorithm continues to "learn" your action, further filtering your suggestions.
AI and machine learning are not two different things. Machine learning is considered to be a part of AI. It allows a device to operate assigned tasks, fixing them as the atmosphere changes. Thus, knowing and understanding how AI functions, helps you understand how you can apply it in your restaurant's industry and make your restaurant digitalized.
Machine learning helps in analyzing worldwide buying patterns in your restaurant as it helps you with information and suggestions to your customers. So, if your restaurant uses any loyalty program, the kiosks will provide you with on-site promotions exclusively tailored to that particular guest.
It can be like a discount offer on their favorite food item or a free birthday cake or item. These facilities take place on-site and use instant "impulse purchase" mentality for their advantage.
Chatting with Bots
You might have already chatted with a chatbot without knowing it. You can find chatbots chatting with a human in the tech help section on the websites.
Speaking about restaurants, these chatbots can manage various tasks such as reserving seats, taking orders or answering to customer's queries.
Bot replies to guest's questions in the form of typed texts. It is the similar way a human being would answer by providing direct feedback, providing you various options, and also confirmations for orders.
With the increase in popularity of voice-command option, chatbots can respond to sound similar to Siri or Alexa. AI chatbots keep your restaurant brand private and responsive, without any of your involvements.
The technology of Virtual Personal Assistants such as Alexa or Google Home is growing at an alarming rate. As these devices enter the restaurant industry, it will easily guide guests to browse for places to dine.
These personal assistants collect information from restaurants, locations, waiting times and outruns. Then, they can place bookings/reservations or orders accordingly. All these happen by a simulated conversation between the two machinery device.
Mobile Apps for Restaurant
If you use an ordering app for your restaurant, you can easily send tailored advertisements or messages for sale promotions.
To provide customers with eating suggestions according to their choices, many restaurant reservation systems have started using  AI apps.
By studying a user's location and buying attributes, these apps can decide whether a customer is traveling to a certain location or looking for a restaurant. It also updates them based on these criteria real-time data.
Technology in Restaurant Operations Management
It is not a new thing to use technology to administer the dynamics of the restaurant. But with the help of  AI, their functioning is becoming more dynamic.
Using software to administer the restaurant's stock, money, and schedules are like using a single platform for operators. This enables them to get everything in one place.
Thus, machine learning functions in these programs are becoming much more complicated. By studying data such as turnover figures, these programs/software can make a decision on their future position.
You can make changes in your workplace and buy decisions from this. They're generally based on existing data & information, and not irrational predictions, thus making its predictability so accurate. AI enables you to take decisions in any application based on factual information.
Where to Discover a Restaurant AI?
Restaurant AI is not only restricted to nationwide or multi-site branches or chains. These websites have the probability to go easy in implementing AI on a broader aspect instead of becoming a smaller and independent operation.
One renowned example is the San Francisco Burger restaurant, which employs an AI robot to prepare food.
Restaurant AI and its Necessity
Beyond their glittering technical qualities, restaurant owners can find various usages for AI. Restaurants with Artificial Intelligence can help restaurant operators in the following ways:
Reduction in Costs – Kiosks and chatbots vacate staffs from taking orders and confirming a reservation. This process is done automatically.
Curtail Errors – The ordering process is done via machines so there are fewer chances for miscommunication.
Entrust Customers – AI generally allows customers to control the system. They can filter order and customize their foods as per their needs.
Improve the Quality of Customer Experience – AI reduces a load of staffs in the restaurants, so they can focus primarily on improving the quality of the guests' dining experience.
Updates Market Reach – AI helps to increase sale and help customers in suggesting automated techniques. It helps you to attain them even if they are away so as to keep your restaurant's name on top of their mind.
AI Restaurants and It's Future
At present, all restaurant owners should have knowledge of AI. It is progressing dynamically and swiftly. 
But it has more to expand and grow with all its future benefits, robotic waiter staff, fully automatic and compatible with the restaurant's atmosphere. More restaurants need to accept this technology to promote their business.